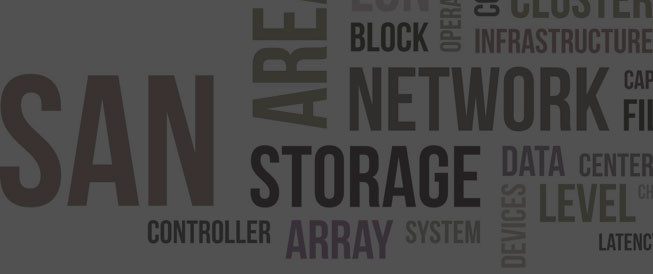 What's the Best SAN File System for Sharing Media?
Spoiled for Choice:
Since it is an essential requirement for every computer, the file system has been taken for granted for a long time. There are more than 85 different choices for local file systems (at least that was the case last time I counted), including HFS(P), APFS, FAT32, NTFS, EXT4, XFS, and Btrfs to name just a few, all covering various kinds of hardware and providing a variety of features. You can find many informative articles explaining the differences in performance and limitations of local file systems, so I want to focus here on shared file systems — a whole different beast. Let's start with a short trip into the past, to help us figure out why there are so many file systems to choose from in the first place.

Know the Past to Understand the Present – and to Be Prepared for the Future
Not that long ago, really, we were grateful for the ability to share data amongst computers at all, utilizing protocols such as Network File System ( NFS ) for the *nix world, the Common Internet File System ( CIFS , aka Server Message Block or SMB) for Windows machines, followed by the Apple Filing Protocol ( AFP , aka AppleShare) for Apple computers. Network speeds were an earth-shattering 10 Mbit then, and with a lot of money, or a little luck, you might even have had an Asynchronous Transfer Mode (ATM) based network, providing a mind-blowing speed of 155 Mbit.
Performance has multiplied dramatically since then, with 40 Gbit basically being the standard today, and 100 Gbit right on the horizon — and that's just for the Ethernet protocol. The development was similar with Fibre Channel (FC). A then-phenomenal throughput of 1 Gbit in 1997 has jumped to 128 Gbit some 20 years later, at least with adequate switches available today from vendors such as Brocade. In addition to these, the two most popular topologies for shared file systems, there are of course InfiniBand (IB) and Serial Attached SCSI (SAS), more commonly used for server-to-server or RAID-system-to-JBOD expansion, etc.
The Big Shift
Demands on network performance and speed skyrocketed when the movie industry started the digital revolution and created more and more computer-generated (CG) imagery. From 3D CG to VFX to color correction, every step in the production and post-production process of moving pictures was suddenly generating numerous digital media files. Instead of countless video tapes piling up in the archives of post-production facilities, unstructured (or "unfiled") media files flooded the IT servers, creating data chaos and leaving IT personnel to invest a lot of manual effort in detangling the mess.